Project: Flap The Bird Game in Unity Engine with source code
– To download Flap The Bird Game Project for free (scroll down)
About Project
Flap The Bird Game project is developed using Unity Game Engine. The language used for the development of this project is "C#". The project file contains Assets such as C# scripts, prefabs, images, animation, sounds and many more. Flap the bird is a 2D arcade video game specially designed for PCs. The gameplay Graphics is good enough and the controls are pretty simple for the users.
About Gameplay
Talking about the gameplay, the main objective of this game is to defend the bird by dodging the enemies, and collecting coins. This game has a basic concept of Flappy Bird. Here, the player has to dodge the flapping bird from enemies. This game is different than the flappy bird as it contains extra features such as collecting coins and lives. On every step, if the bird fails to dodge one time then the life of the birds decrease by one and at first, the bird has a maximum of 3 lives. The score points increases after collecting coins. Even heart shaped life is also available which is a bit rare. Whenever the player takes the bird to a very height, it also reduces the life of the bird. Other, there are no such obstacles like the flappy bird.
The controls are  Mouse click and the space bar to control the bird. Talking about the gaming environment, different images, 2d models, and animations are placed which provides an exact image of hilly areas. In this 2D gaming application, Graphics Elements and Audio Fragments of works were used. Just remember this game is a way different than the flappy bird.
In order to run the project, you must have installed Unity3d on your PC. Flap The Bird Game in Unity Engine project with source code is free to download. Use for education purpose only! For the project demo, have a look at the image slider below.
Gameplay Demo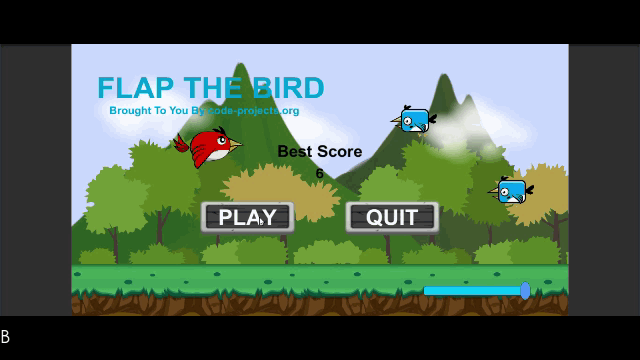 DOWNLOAD FLAP THE BIRD GAME IN UNITY ENGINE WITH SOURCE CODE: CLICK THE BUTTON BELOW
[quads id=1]